As defenders of Scarborough Shoal, Nolcom gets replica of 1734 Murillo Map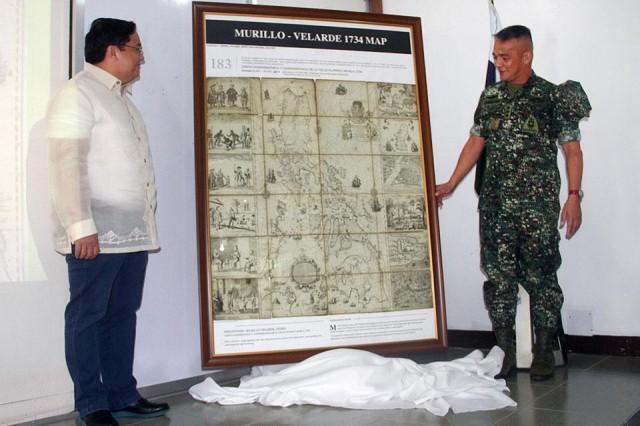 A businessman on Monday donated a framed replica of the 1734 Murillo Map that showed Scarborough Shoal as part of the Philippine archipelago to the orthern Luzon Command (Nolcom) of the Armed Forces of the Philippines (AFP).
The replica was turned over by Mel Velarde to NoLCom commander Lt. Gen. Romeo Tanalgo at Camp Aquino in Tarlac City. Tanalgo also received donated copies of the map to be distributed to Nolcom field units.
In his message, Velarde stressed the significance of donating the Murillo Map replica to Nolcom.
"Why is the replica of the Murillo Map being donated at Northern Luzon Command? The Northern Luzon Command is the protector, watcher, caretaker, defender of Bajo de Masinloc under Northern Luzon Command's direct jurisdiction," he said.
Scarborough Shoal, also known as Bajo de Masinloc or Panatag Shoal, is now under the control of China as tensions in the disputed West Philippine Sea intensify.
The Philippine government used the Murillo Map when it filed an arbitration case against China before the Permanent Court of Aribtration in The Hague, Netherlands. The map shows that the disputed shoal is within the Philippine territory over three centuries ago.
The Murillo Map, also known as "Carta Hydrographica y Chorographica de las Filipinas," was drawn by Jesuit priest Pedro Murillo Velarde and was published in Manila in 1734. It is the first internationally recognized scientific map of the Philippines.
Velarde acquired the map for £170,500 or around P12 million through a bidding put up by Sotheby's for British lord, Ralph Goerge Algeron Percy, the Duke of Northumberland in November 2014 in London. He was urged to make sure the map goes to Filipino hands by Supreme Court Justice Antonio Carpio.
Tanalgo, meanwhile, lauded Velarde's initiatives.
"Mr Velarde, the exhibited act of patriotism is unique and unmatched. Ensuring the 1734 map landed in the hands of Filipino people… And we are lucky to be the first (to receive) among the institutions," he said.  —Trisha Macas/KBK, GMA News
Source: http://www.gmanetwork.com/news/story/568958/news/nation/as-defenders-of-scarborough-shoal-nolcom-gets-replica-of-1734-murillo-map